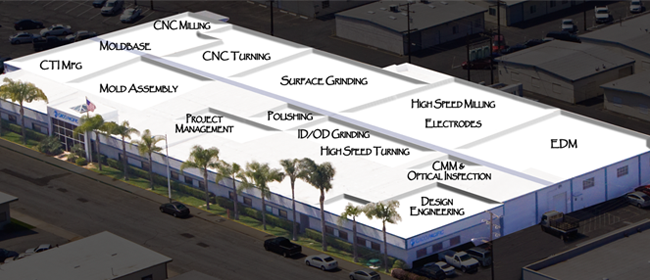 Over the years, CACO PACIFIC has always put the customer first in developing our capabilities. From a major expansion of Robotic Electrode Making and EDM capability in the 1990s to our recent purchase of CNC high speed milling and turning machines, as well as CNC surface grinders and a CNC ID/OD Grinder, we are constantly investing in new machining technology that help meet the needs of today's customers.
Our ability to innovate has been woven into
CACO PACIFIC's DNA from day one, as evidenced in
our pioneering accomplishments throughout our History
Many innovative ideas are routinely incorporated into mold designs. They come from our diverse engineering team and are considered a normal part of our mold design process.
During 1995 we started patenting our innovations and currently have received 15 patents, with two patents pending. Our patents are in both injection mold and hot runner technology innovations. Notable among these are patents for a multi-shot technology called LIT (Low Inertia Turning) in 2002, followed by an LIT technology patent that includes rotating mandrels in 2004. Our newest innovations have patents pending for MAPP (Multiple Alternating Product Positions) and "Individual Valve Pin Shut Off in a Common Actuation Plate".