Except where otherwise noted, candidates should have minimum 3-5+ years of experience. All machining candidates must be able to perform own set-ups, inspections and hold close tolerances up to .0002 inch.
PROJECT MANAGER
MOLDMAKER / MOLD ASSEMBLER
CNC SINKER EDM SPECIALIST
SURFACE (FORM) GRINDER
CNC WIRE EDM SPECIALIST
CNC MILLING MACHINIST
CNC PROGRAMMER
MOLD DESIGNER
MOLD POLISHER
MOLD POLISHER TRAINEE
We are always interested in considering people with mold making industry experience for positions that may not be posted on this page. If this applies to you and you are interested in working for a dynamic and growth oriented organization, please forward your resume and salary requirements. Second shift employees are paid a 10% shift premium.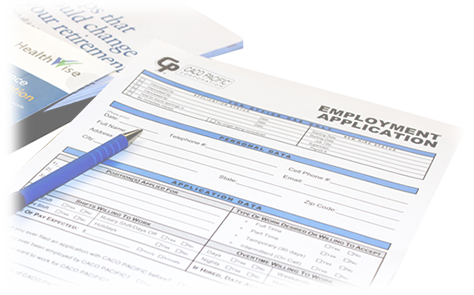 Please include your salary requirements along with your resume.
CACO PACIFIC Corporation
Human Resources
813 N. Cummings Road
Covina, CA 91724
Fax: 626-331-8972
hrgroup@cacopacific.com
We are an Equal Opportunity Employer and work in compliance with federal and state laws.
FULL TIME EMPLOYEE BENEFITS
Health and Life Insurance:
We offer Medical, Dental, Vision and Life Insurance coverage to employees and their dependents, with over 95% of employee only cost covered by CACO for medical, dental and life insurance. Most employee contributions for health insurance are tax exempt through our Cafeteria Plan.
We also offer supplemental insurance products through AFLAC, as well as a Flexible Spending Account (FSA).
The Employee Assistance Program (EAP) confidentially assists with personal issues such as family counseling, legal and financial concerns, substance abuse and emotional health difficulties.
Paid Time Off:
Paid Time Off (PTO) and California sick pay benefits are provided to employees based on length of service.
Ten paid holidays are scheduled per year.
Bereavement Pay is available for the loss of certain family members.
Retirement Funding:
Employee Stock Ownership Plan (ESOP) – CACO PACIFIC is owned 100% by its employees. Through the ESOP, employees gain Company ownership, share in the Company's profits and benefit from the long term growth of the company.
401(k) Plan – This tax deferred savings and investment program allows employees to set aside a portion of their gross earnings for retirement. The Company matches contributions within certain limits.
Career Growth:
Tuition Reimbursement – We offer educational assistance to help employees further their careers and prepare for present and future job responsibilities within the Company.